When you run a small business, you spend a significant portion of your time trying to figure out how to reach new customers and increase sales. Though there are a wide variety of ways to accomplish this goal, many entrepreneurs have found enlisting the help of experienced mobile app developers to be one of the most effective.
How Can Mobile App Developers Help Your Company Grow?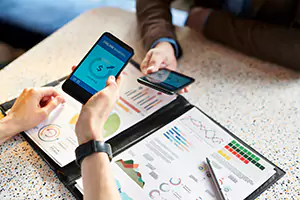 In the 1st quarter of 2015, approximately 31 percent of the world's web traffic came from mobile devices. The remainder were mainly using laptop and desktop computers.
By the 4th quarter of 2019, however, around 53 percent of this traffic came from mobile devices.
So, what does this shift toward smartphones mean for your company? Well, it presents you with an opportunity to increase your sales figures. If you can work with mobile app developers create an online experience that is convenient and easy-to-use on a mobile device, you are likely to notice a sizable uptick in the number of individuals who wish to buy products from your organization.
How can you create such an enjoyable online experience for your new and existing customers? With the help of some experienced mobile app developers, of course. A knowledgeable developer can analyze your existing web presence, figure out what sets you apart from the competition, and create an application that emphasizes your company's unique selling points, products and services.
Are you ready to hire a team of skilled mobile app developers to help your business reach new heights? Well, you are in the right place! At Microtronix ESolutions, we have been creating powerful and unique applications on behalf of small, medium, and large companies throughout the United States and the World for many years. To set up a meeting with one of our friendly account managers, just give us a call at (419) 458-2880 or contact us online.