Do you need a new program to help you track orders, manage employees, or communicate with your clients? Then you could turn to one of the many off-the-shelf applications that claim they will resolve your issue. However, these systems are often riddled with bugs and tend to fail when you need them most. If you want a more reliable option, you need custom software development.
Why Custom Software Development is the Most Reliable Solution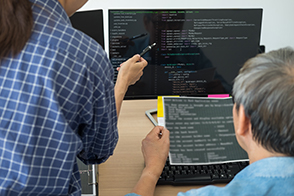 There are two main things that make custom programs more reliable than their cookie-cutter cousins. The first is the fact that the developers create them with a specific purpose in mind. As a result, they do not need to add any unnecessary features that may cause the system to slow down or fail. They can instead focus on ensuring that their code is tight and bug-free.
The second thing that makes investing in custom software development a more reliable solution than buying an off-the-shelf program is the support you receive when issues arise. When a mass-market application has some problems, you generally need to wait for the developer to recognize them and address them before continuing with your work. In some cases, it can take weeks or even months for this process to occur. When custom-made systems have issues, you can usually call the developer and have them fix it right away - no need to wait.
Are you ready to experience the difference custom software development can make for your organization? Then please do not hesitate to reach out to the experts at Microtronix ESolutions. We have been creating custom programs for clients throughout North America for years - and we are more than ready to do the same for you. To speak with one of our friendly representatives, all you need to do is fill in our brief online contact form.